How does a child's heart relate to his education? The mind and heart are located in different parts of the body, right? They serve different functions and purposes. What if the mind and heart were meant to work in harmony? God has a bigger picture of how a child's education influences his life.
So what does God say about Education?
We cannot find a better way to word how God feels about education outside of His choice of words from the Bible.
Proverbs 4:13 - Take fast hold of instruction; let her not go: keep her; for she is thy life.
Romans 12:2 - And be not conformed to this world: but be ye transformed by the renewing of your mind, that ye may prove what is that good, and acceptable, and perfect, will of God.
Proverbs 16:3 - Commit thy works unto the LORD, and thy thoughts shall be established.
Proverbs 18:15 - The heart of the prudent getteth knowledge; and the ear of the wise seeketh knowledge.
2 Timothy 3:16 - All scripture is given by inspiration of God, and is profitable for doctrine, for reproof, for correction, for instruction in righteousness.
What is the difference between book learning and life preparation?
Aristotle, the famous Greek historian, showed the high value he placed upon education when he said, "Educating the mind without educating the heart is no education at all." Without Biblical character training, education is just "book learning" rather than life preparation.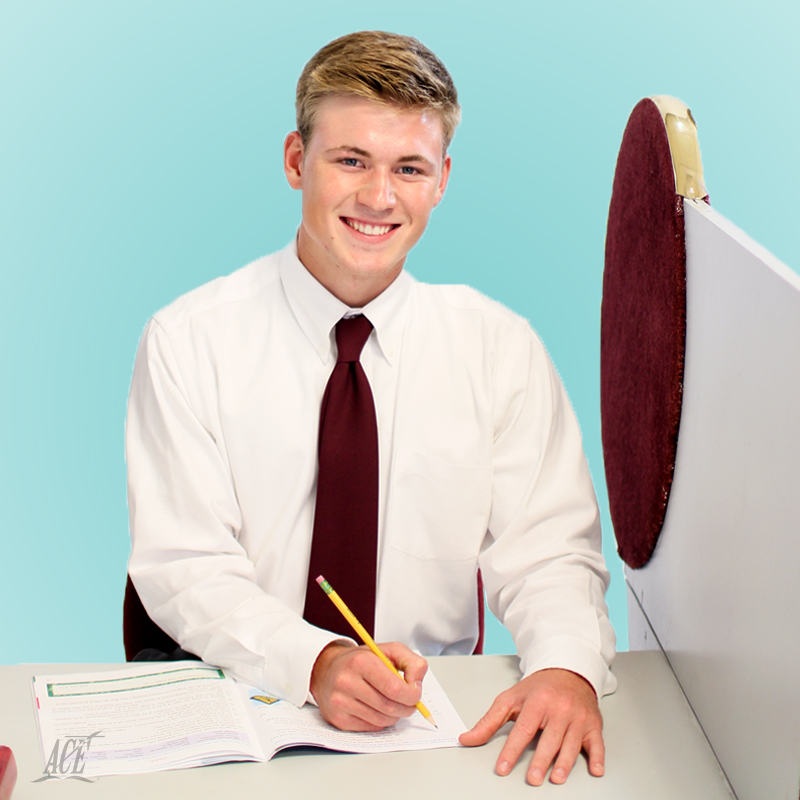 How will your child learn differently?
True Biblical education trains children to see life from God's perspective and live according to His Word. To accomplish this, A.C.E. takes every opportunity to focus the child's attention on Biblical principles, tying information and applications to Scripture and Biblical characters. The Bible and Biblical principles are woven into the very fabric of every PACE.
Through mathematics, the child will come to recognize and appreciate God as the Master-Planner of the universe, in light of its design and precise, calculable operation.
Through English and Word Building, the child learns that language and its related arts are gifts from God, and are a means of communication through the spoken and written Word of God.
Through the sciences, the child will see the hand of God in Creation and recognize Him as the Master-Designer.
Through history and its related disciplines, the child will realize that history is His Story.
Children will learn how to apply the principles found in the Bible to their daily lives. Let us remember, "Train up a child in the way he should go: and when he is old, he will not depart from it." Proverbs 22:6