The true meaning of Christmas is based on the birth of our Savior, Jesus Christ. Share the story of His birth with your students while they create this stained glass Nativity scene. Find the instructions and a free downloadable Nativity silhouette below.
Supplies Needed:
Contact paper
Nativity silhouette (free printable copy)
Colorful tissue paper cut into squares
Scissors
Optional: Single hole puncher and string to turn craft into a Christmas ornament
Steps:
Print and cut out a Nativity silhouette.
Take multiple sheets of your colorful tissue paper and cut them into small squares.
Place your contact paper sticky side up and lay the black side of your Nativity silhouette on top of the contact paper.
Now, place your cut tissue paper inside of your Nativity silhouette to create a stained-glass effect. The tissue paper will immediately stick to your contact paper.
When the entire center of your Nativity silhouette is filled with colorful tissue paper, place a second sheet of contact paper, sticky side down, on top of your entire project. Try not to trap any air bubbles when placing the second sheet of contact paper.
Cut any excess contact paper with your scissors.
Optional: punch a hole in the star and tie a string to create an ornament.
Printable PDF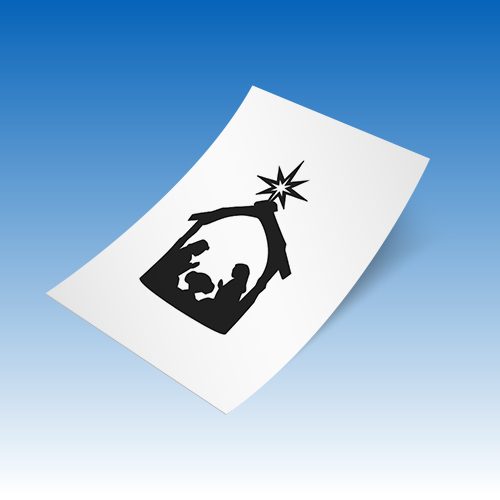 Stained Glass Nativity Craft Video
Snowflake Craft